About Us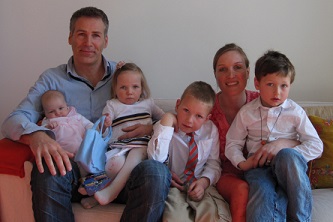 We are the Wilmes family from Edmonton, and we're happy to offer our balance bikes to you! As you can see on the picture we have lots of little pilots who help us testing and improving the bikes.
Balance bikes are designed for toddlers and come without pedals and training wheels.
Using only their legs for balance and movement, your children will have instant success "running" their bikes without the falls, scrapes and frustration learning to ride a conventional bike.
Later on the transfer to a bike with pedals will be extremely easy for each kid because of the skills learned using a balance bike.
Safety Comes First
Our balancing bikes were designed with a keen eye on your toddler's safety, so you won't find a sharp edge on it. The gap between the frame and the fork is filled with felt, so your child's finger can't get pinched there. The felt also prevents the front wheel from making sharp turns, a common cause for accidents with little riders of regular bikes. For safety's sake, we believe toddlers should run bikes not ride them!
If you are looking for a balance bike in Canada, we are the experts! Our bikes for toddlers are engineered to be both safe and enjoyable. You will not regret investing in a balance bike!
What A Bike!
Finding innovative toys for youngsters can be difficult nowadays. It seems like almost everything has been done before! Enter our balance bike. Each of our bikes for toddlers is handcrafted to be completely safe.
If you would like to buy a balance bike, call us to discuss your order, or visit our contact page. Our helpful and knowledgeable representatives will be happy to tell you more about our specialty bikes for toddlers. There is no doubt that both you and your child will love your new balance bike from the moment it arrives at your home!
Shop
What You're Saying…
"Excellent… buy from these guys: they are GREAT!"
Classic Runners-Bike
"Super fast shipping and a great price."
Junior Runners-Bike
"LOVE IT!"
Wooden Kids Bike "Runners-Bike"
"Amazing product and fast shipping!! Thankyou!!"
Wooden Kids Bike "Runners-Bike" (Age 2-5)
"Great bike! Thanks for the great buying experience!"
Princess Balance Bike
"Our boys never had training wheels thanks to you"
Classic Balance Bikes
*** Please read our blog for more customer feedback